About author


My name is Gorazd Žagar and am a systems engineer by profession, age 34. My interest in medieval period began when I was in secondary school. Source of this interest is unknown to me but it might be related to the music - black metal, that I had been listening during that time. I still strongly associate black metal to medieval period.
More academic exploration of gothic period and especially demystifying related myths (distinction between fact and fiction/fantasy) began with the mediaeval society »Celjani« from Celje. Facts are even more interesting and attractive from fiction or fantasy anyway. During many years of performing as a knight I learnt to appreciate the late gothic era (around 1470 - 1500) the most. I am a member of European mediaeval fight school Schola pugnatoria Celeiana led by mr. Igor Sancin and medieval society "Zlate ostroge" from Ljubljana. With the latter we study art, culture, craft and anything related to the late gothic period.
I spend most of my time studying medieval architecture, art, arms and armour, fighting style and thought patterns of that era.
In the year 2010 collaborator Aleš Hotko has joined the project and has been contributing english translations as well as reviews since.
I currently live and work in Malta.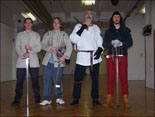 1. At the presentation of the book "SVET VITEŠTVA", where I "stole" 5 minutes of mr. Stopar's valuable time.
2. Matej (Celjani), David Cvet (AEMMA) in myself, lectures at the national museum, Ljubljana.
3. Matic, Gregor, mr. Cvet and myself. Workshop Fiore, 2007.
4. MYself, Matic, Renee, Volk, Eleonora, Irena in Gregor, castle Podsreda, Sept. 2009.

Projects

Mediaeval late-Gothic suit of armour (approx. 1460)
Without any knowledge or experience I began making a fully functional lategothic suit of armour in early 2004 (photos left). The complete suit of armour still lacks the sabatons and a helmet which I might still make some time later.






Mediaeval Gothic suit of armour (1st half of the 15th Century)
My second project, german mediaeval suit of amour from 1st half of the 15th Century. The breast plate constists of two parts (a system of floating rivets and leather strips makes them movable) which provides better maneuverability.
The photo on the left: Planet TUŠ, Celje, okt. 2005, foto: Irena G.
The photo on the right: exhibition at the Planet TUŠ, Celje, oct. 2005.




Mediaeval Gothic suit of armour (after 1450)
Project had started out solely as a gauntlet production for keeping my fingers intact at the practice of mediaeval swordfighting but later turned out to evolve into the production of a full suit of armour.
I've used 2mm metal plate on some pieces to make them stronger so armour could withstand stronger blows at practice. Armour was put in serious use several times at practice and can be admired in this book Mojstra Sigmunda Ringecka razlaga verzov mojstra Johannesa Lichtenawerja by mr. Igorja Sancina.
Slika desno: practice at Old castle Celje, 2009



Mediaeval suit of armour Talhoffer (2nd half of the 15th Century)
Although predicted for the year 2006, is this project postponed for an undetermined period. In search for more experiences with medieval armour replicas creation, I plan to deal with more smaller projects which might in overall present a new complete suit of armour.
The creation of a replica of a suit of armour depicted in manuscript Alte Armatur und Ringkunst by fechtmaster Hans Talhoffer is therefore in my waiting list for year 2007 or later.





The peak of the late-Gothic period (approx. 1480)
A well-known example of an late-Gothic suit of armour is the one made by a famous master Lorenzo Helmschmied. A project like that requires a lot of time, efford and foremost- experience. However, it is still my desire to create a replica of precisely that suit of armour (once I gather enough experience).
The original suit is in the Kunsthistorisches Museum in Vienna. Duke Siegmund of Tyrol married Katherina of Saxony in 1484. Also called Sigmund or Sigismund, he received this suit of armour made by Lorenz Helmschmid of Augsburg as an Imperial gift for the occasion. Helmschmid was the preferred armourer of the Emperors Frederick III and Maximilian I. This armour represents the pinnacle of the armourers' art, and is typical of the late German Gothic style with its fluted surfaces and graceful lines.



Rest of the stuff
Ocassionaly I make leather artifacts such as scabbards, bags and such. On the right one can see a Gothic leather bag. My other projects include chainmail artifacts (byrnies, coifs and chainmail gorgets).







I like to sleep in the rest of my spare time ;-)

About the site
As being very interested in castles, I decided to create this web site, especially as I have not come across similar sites on the Web so far. In future, the main difference between this site and the others available on the Web will be the immense quantity of photographs from sites. Even humble ruins will be entered among other sites. At every entered site I list not only basic information, but also turist info, useful links and information on possible mediaeval ževents on site or in its vicinity, as well as information about organisers.
The web site gradovi.net was launched on 28th June 2004, the contents were programmed in php script, for processing HTML Notepad word processor has been used. The database run on mySQL server.

Translation into English by Aleš Hotko
Translation into German by Blanka Prezelj

Photos of the sites
All the photos of the sites and their surroundings are taken by the author, with exeption of scanned images, where due authors are named. The photo material is not copyright, however, the author expresses his desire to be acknowledged if the material is published or used elsewhere. The author uses a digital camera Sony DSC (Minolta DiMAGE S304 in the past). The original sized photographs at 5M px and newer 7M px can be obtained upon request (suitable for print).

Literature
The main source of literature are the works of Dr. Ivan Stopar, Art-historian, and now also a book "Vitez in grad" (A Knight and a Castle) by Dr. Dušan Kos. At every entered site all sources are acknowledged. Usually, I use only the basic information, therefore I suggest the listed literature to be used for more in-depth analysis. Visitors are welcome to send me comments, corrections and other data (eg. legends) regarding reviewed sites.